Disclaimer: I have very little idea what I'm talking about. I just read a bunch of articles online, watched YouTube videos and tried out different kit, so that you don't have to.


Below is the current video and audio setup that I have for Zoom.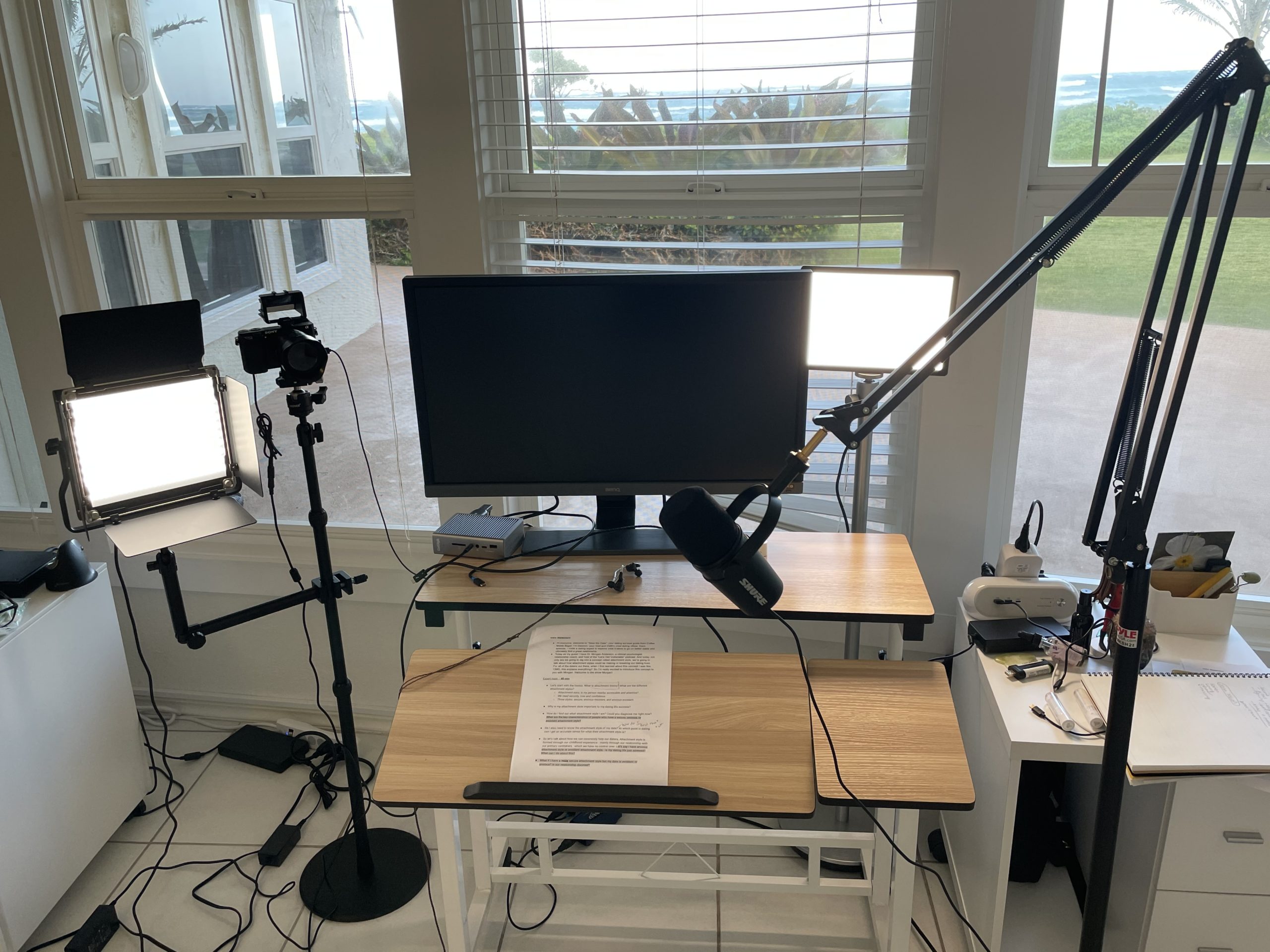 Total cost: around ~$1700
Google sheet with all of the items
Amazon wishlist with 95% of the items
Audio:
Microphone: Shure MV7 USB Podcast Microphone
It's just plug and play, with good sound.

Microphone stand: Pyle Microphone Boom Suspension Stand

Will depend what your needs are and what setting you're recording in. I like this "scissor" suspension floor stand. Most microphone scissor stands need to be attached to a desk. This is just a floor stand and you can adjust it into/out of position as needed.

Earphones: KZ ZST Earbuds

These are really cheap and if you run the cabling down the back of your head, then they are pretty discreet, as you'll see from the photo to the right of me wearing them. Wired headphones are supposed to be better for recording, as less chance of audio lag and having to deal with battery running out.

Only downside is that the cable is short, so you'll probably need an extension cable.
Video:
Camera:
DSLR camera: Sony A6000 camera


Many DSLR cameras work; I am using the Sony A6000 and can recommend it as it's cheap and works.

Camera lens:VILTROX 23mm F1.4 f/1.4 E-Mount Auto Focus

I saw some people recommending like $1000+ camera lenses; I didn't need something that fancy. This cheaper VILTROX lens has worked out great for me.

Key thing to pay attention to: 23mm refers to how cropped the image is; I've found 20mm-30mm to work well for Zoom calls.

F1.4 refers to basically how blurred the background can get; the lower the number, the more background blur that'll be possible. F1.4 works great. On the camera, you need to adjust the aperture so that it says 1.4, else the background blur effect wont happen.

This lens also has auto-focus, which works great.

Lens filter: Tiffen 52BPM18 52mm Black Pro-Mist 1/8 Filter

This filter attaches to the camera lens. Basically when you're using a bunch of lights, your skin can get very shiny. This lens reduces those "highlight flares" just a little bit. Different lenses use different size filters, so bare in mind if you're buying for a different lens than I link above.

Camera mirror: Camera Selfie Flip Screen

With the Sony A6000, the monitor can only face backwards, so you can't see what the camera's seeing. This cheap mirror makes it so that you can view the monitor whilst recording.

Camera power adapter: AC Power Supply Adapter and NP-FW50 Dummy Battery

This adapter makes it so that you can power your camera by plugging it into the wall instead of via battery.

(optional) USB-HDMI adapter: Elgato Cam Link 4K

This is just plug and play to convert the HDMI of your DSLR to a USB input.
It's a little less plug and play, but Sony also now have software so that you can just plug in the camera directly to your computer without needing the camlink.

Micro HDMI -> HDMI cable: Nanosecond Extreme Slim 2.6' Micro HDMI Cable

As long as your camera is not gonna be too far from your computer, Nanosecond makes the world's thinnest (apparently, and seemingly) HDMI cables. If you need something longer, just look for a micro hdmi to hdmi cable.
Lighting:
There's a concept called "three-point lighting" which a bunch of people suggest. I haven't found the "back light" to be all that necessary a lot of the time, so I'll often just have a "key light" and a "fill light". This chart explains things pretty simply and the suggested angles to put them at:
Stand for camera and light -> Elgato heavy base + Elgato master mount + Elgato flex arm

You can get cheaper options, but Elgato's stands are very flexible. A bunch of their stuff is often sold out though. You could get an alternate light stand.

For me, the setup ends up looking like on the right: my camera, with my "fill light" mounted next to it (excuse the messy cabling).

Fill light, Key light and (optional back light): 2-3x of Neewer Ultra-Thin 192 LED Video Light Panel with LCD Display

Cheap and simple, work great. It is better than some other Neewer lights, as this dims to a lower setting than some others I tried. I had Elgato Key lights and their other lights before, but got rid of them, as I hated them. The Elgato lights are controlled by wifi and they often would break for some reason. These Neewer lights, you just switch them on and off with a switch on the back, simple and work.

Floor stand for back light and key light: Neewer Compact Base adjustable Floor Stand

Because the Neewer lights are so light weight, you can just use a microphone stand like this, which is light and easy to pick up and move around.

Tripod adapter: Standard 3/8″-16 Female to 1/4″-20 Male Tripod Thread Reducer

You might need this in order to get the light to fit on the stand.
Bonus tips:

When you first get the camera, you'll want to turn off "HDMI info display" in settings, else you'll have a bunch of icons over your video feed
I haven't seen this mentioned in many places, but if you use the power adapter, then the battery slot wont shut properly. There's a small piece of rubber that you need to push out and then there'll be a slot for the cable to go through so that you can close the battery door. Pic here.
The lens I link above has a micro-USB slot. you can update its firmware by connecting it to your computer, visiting this page and finding the latest firmware version. then just extract the .DAT file (e.g. UPD2314EV116.DAT) to the virtual drive that appears for the lens on your computer and it'll auto update.

Here's a quick photo of how it looks in practice. This is with a 2 light setup (key light and fill light):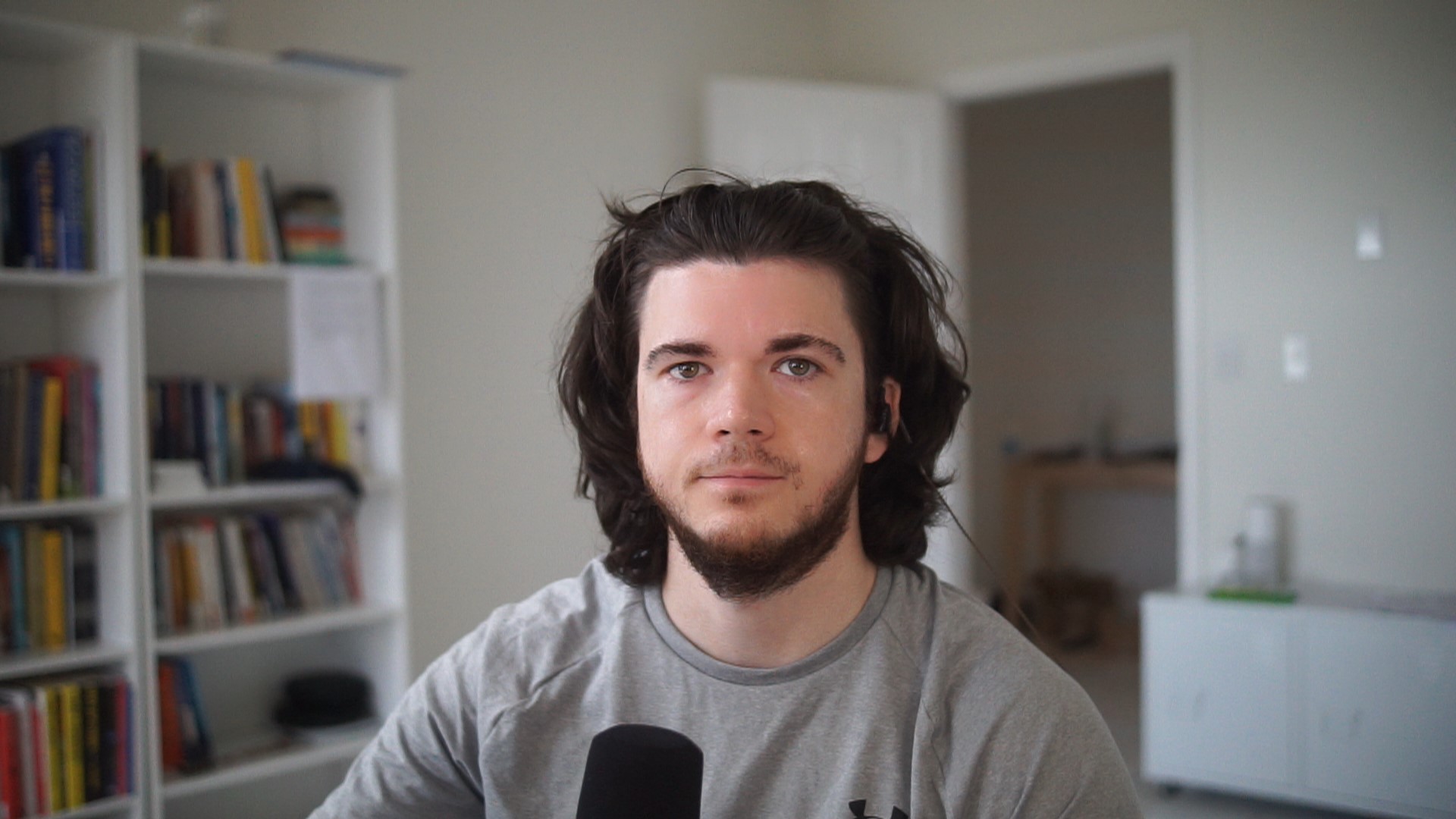 Have any thoughts on this post? — Tweet me at:
@_jacksmith